Medline has been manufacturing and delivering personal protective equipment and protective clothing for over 40 years. This experience has given us profound expertise in always meeting or exceeding infection control protocols and providing you the comfort you need to handle the pressure of an intense day in your hospital or healthcare facility.
Also, with the increase of ambulatory surgery and to make sure patient's comfort and dignity is taken into consideration during the hospital stay, Medline has developed a line of Patient apparel. The range include gowns, underwear, socks and kits. We have a wide selection of apparel to help you dress your patients for success.
Medical Apparel for Healthcare Staff and Patients
Keep your staff comfortable
and your patients safe.
Medline Single-Use Scrub Suits
We know how much you rely on this disposable medical apparel to keep your staff comfortable and your patients safe, and that is why we offer three ranges of scrub suits and scrub suit sets for doctors, nurses and other medical staff.
Medline delivered more than
4 million scrub suit sets in 2019 to more than
400 European hospitals.
---

Keep your patients safe
Single-use scrub suits are made of exclusive and rigorously tested fabrics that have lower linting properties compared to reusable scrub suits. Also, because they are single-use, you can be sure they are always clean.

Offer consistent product quality
Disposable scrub suits offer you consistency in appearance, colour and design, and are available in a wide variety of sizes. Enjoy clean, comfortable and new protective clothing every day.

Eliminate hidden costs
While it is sometimes difficult to evaluate the total costs of reusable personal protective equipment due to reprocessing, single-use scrub suits offer you clear visibility on your expenses.

Avoid laundry service issues
With reusable cotton scrub suits, a poor laundry service level can mean bad washing quality or delivery delays for much-needed medical apparel, causing disruption to your daily activities.

Introduce colour coding
Our disposable scrub suits are available in a variety of colours, providing an ideal way to identify the different types of healthcare professionals, like doctors and nurses, in the operating theatre.
---
Protective clothing designed with you in mind
We have worked with healthcare professionals like you to create our scrub suits with features you want and need to perform at your best. Experience new, clean medical apparel every day.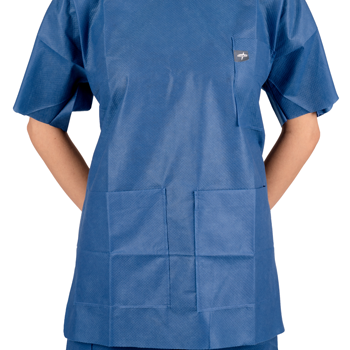 Bell-shaped design for a perfect fit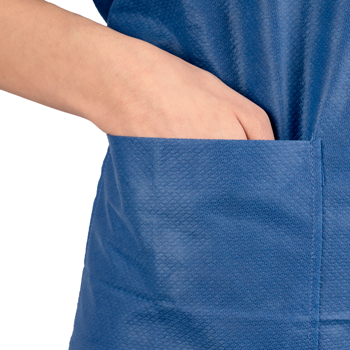 3 convenient pockets on the shirt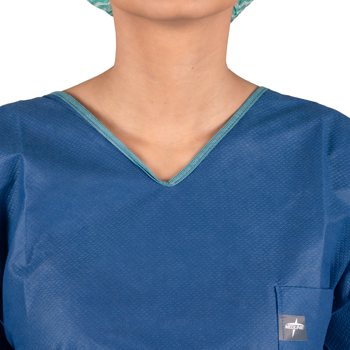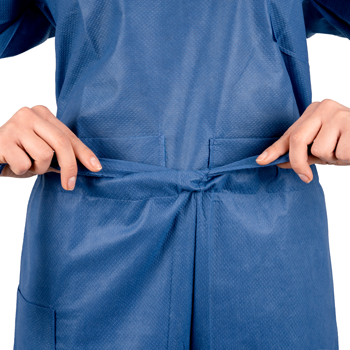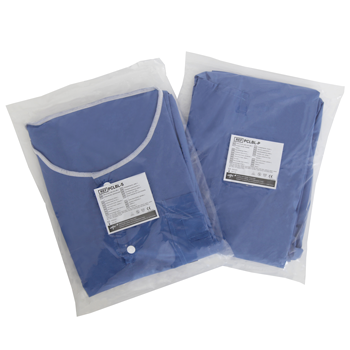 Shirt and pants packed separately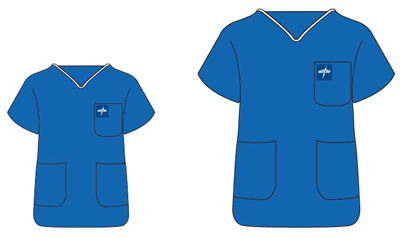 ---
Carefully selected materials
Medline's disposable scrub suits and scrub suit sets offer a high level of comfort thanks to their ultra-soft and breathable SMS material with the following features:

---
Compare our scrub suit ranges
Use the table below to find the scrub suit which will fit your needs:
Essential medical apparel to meet daily challenges
Our top-of-the-line ultra-soft range for demanding activities
Medline's economic Soft Scrub Suits are designed to meet the basic needs of your ward.
Our Advanced Scrub Suits go one step further than our Soft line and offer non-biological fluid resistance, extra comfort as well as additional colours.
Medline's Ultimate Scrub Suits offer our highest level of comfort, breathability and protection you and your patients deserve, and are even more low-linting than our other two ranges.
---
Top 3 reasons to choose Medline
1. As a worldwide leader in disposable personal protective equipment and clothing, Medline provides stable supply and consistent product quality.
2. Medline helps you increase patient safety in the hospital by producing disposables made of low-linting material.
3. Medline offers hygienic and comfortable apparel, designed in partnership with doctors and nurses.
Hospital Patient Wear
Medline's disposable hospital clothes are suited to patient use during day surgeries within an ambulatory care unit. They are designed and tested for efficiency in the healthcare setting.
What do we mean by 'ambulatory care'?
Day surgery procedures consist of performing a scheduled surgery in less than 12 hours, without overnight hospitalisation. It should manifest within the framework of having secured an operating theatre, the ability to provide local or global anaesthesia, and the certainty of postoperative monitoring. All these requirements allow patients to leave the hospital on the same day, following their intervention. In the UK, the number of outpatient attendances at NHS increased by 3,1% between 2018-19 and the previous year1.
It was only a few years ago that it was the simpler kinds of surgeries like cataract removal, wisdom tooth extraction or arthroscopy, that were allowed as day surgeries. Nowadays, however, there is facilitation of a wider range of surgeries, including the more complex types, within the ambulatory care process. This is because of the continued progress of medical technologies, concerning, for example, the installation of a knee prosthesis, gynaecological surgeries etc. Aside from these, other procedures such as herniated disc surgeries, for which patients need a few days of recovery before leaving the hospital, are now possible for same-day execution at ELSAN Clinical Centre.2
What is the impact on those who are involved?
Ambulatory care units have many benefits for both patients and hospitals. For the patient, ambulatory care units:
Offer the same level of quality care as available in the classical hospitalisation scenario

Help reduce the risk of a nosocomial infection

Improve the recovery process

Increase the patient's autonomy.
Meanwhile, for the hospital, ambulatory care units:
Optimise the duration of use of operating theatres and other facilities

Allow healthcare staff to focus and spend more time on patient care

Limit the issue of the unavailability of beds

Increase patient rotation.

Medline's solution: Patient Kits
Over the past few years, many healthcare facilities have developed an ambulatory care unit and have been looking for solutions to dress patients. At Medline, we know improving patient care is a priority for healthcare professionals, and so we offer you a variety of disposable apparel to dress your patients. These give patients the modesty and comfort they deserve.
In collaboration with some of our customers, we created various patient kits composed of all hospital apparel patients need for day surgery. Patients can maintain their dignity throughout their stay, as the components, manufactured from a soft and non-woven SMS material, are opaque. The overlaps of the apparel give more comfort to the patient and provide high-level body coverage.
Patient kits represent an excellent balance of key considerations, including maintaining the patient's modesty, increasing hospital efficiency and simplifying the supply chain. Indeed, the facilitation of stock replenishment and storage organisation is also a benefit.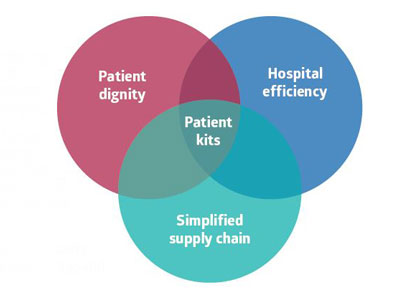 References
(1) Activity, H. (2019). Hospital Outpatient Activity 2018-19 - NHS Digital. Retrieved 28 September 2020, from https://digital.nhs.uk/data-and-information/publications/statistical/hospital-outpatient-activity/2018-19
(2) Simon, L. (2020). Hernie discale: une chirurgie moins lourde et inédite à Soyaux. Retrieved 28 September 2020, from https://www.charentelibre.fr/2020/08/24/hernie-discale-une-chirurgie-moins-lourde-et-inedite-a-soyaux,3636254.php