During the COVID-19 pandemic, the demand and supply dynamics of the exam glove market have been heavily disrupted, and the market is still struggling to repair that imbalance, especially for nitrile gloves.
Because of supply shortages, customers are facing problems in glove delivery as well as less stock. It is therefore key that glove usage is carefully considered to avoid running out of nitrile stock.
Did you know?
Vinyl gloves are manufactured from PVC. This material is known to be less suitable for high-risk environments due to having less strength and tactile sensitivity than other materials.
However, compared to other exam glove materials, vinyl is the most cost-effective. Thanks to the low costs of sourcing PVC materials, the price of these gloves is consequently lower too.
Unlike nitrile or latex gloves, vinyl gloves do not cause allergic reactions. No latex is used in the glove ingredients, so no Type I allergic reactions can occur. In addition, the manufacturing process for vinyl gloves does not require any chemical accelerators. Chemical accelerators are used to speed up the nitrile manufacturing process, and can cause Type IV allergies for a small group of users.
Medline Blog:
Why substitute nitrile with vinyl?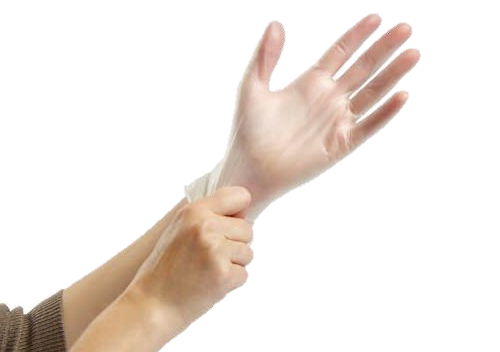 Why substitute nitrile for vinyl gloves?

TAKE ADVANTAGE OF AVAILABILITY

Vinyl gloves are manufactured from PVC and plasticisers. These raw materials have been easier to source during the pandemic than nitrile butadiene rubber (NBR), the raw material for nitrile gloves. During COVID, NBR has been so difficult to source that it has caused major production delays.
Therefore, the ease of sourcing PVC raw material has resulted in more availability of vinyl gloves during the pandemic than nitrile gloves.
PERFORM NON-HAZARDOUS TASKS

When performing tasks in low-risk environments, vinyl gloves are a good substitute for nitrile gloves. Vinyl is an economic material that offers the right amount of protection when performing cleaning tasks, for example.
The use of nitrile should be prioritised when performing other more high-risk tasks, for example when caring for COVID patients.
RELIEVE PRESSURE
The COVID pandemic has created enormous surges in demand for nitrile exam gloves. This glove offers the best protection against bodily fluids, chemicals and chemotherapy drugs, and is therefore highly desired in acute care environments.
However, substituting nitrile for vinyl gloves outside of these high-risk, hazardous environments can ease some of the pressure on the current nitrile glove demand. This can open up some capacity for nitrile gloves in the areas where they are needed most.
The current pandemic environment requires adaptive skills, and we urge our customers to rethink their glove usage in order to manage the tight glove supply.
Learn more about the departments where vinyl gloves can serve as substitutes.